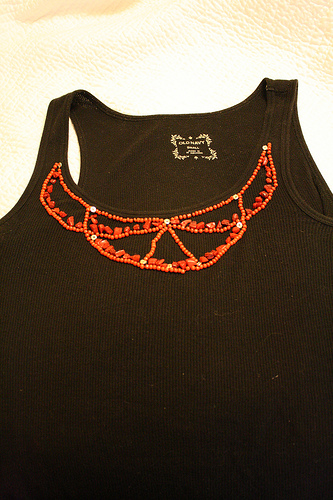 Beaded Tank Top
I saw these shirts the other day at Old Navy and immediately thought "I could make that!" Granted, all together the cost to make it myself would probably be more than the $9 Old Navy price tag but making it yourself is way more fun, right? Right. So that's what I did and it's a very simple idea and a great way to spruce up an old tank top and get rid of extra beads you might have at the same time.
First you need to mark out your design. You could always free hand it but I'm not that skilled. I used a tupperware lid and a ruler to make sure everything was even.
My chalk wore off easily so I had to trace over the lines a few times during the project just so I knew which direction to stitch.
On my lines I sewed tiny red beads with gold flat beads near line intersections. Then along the red bead lines I sewed these irregular shaped red rock beads. I used red thread for the red beads and a tan-ish color thread for the gold beads.
I used a ribbed tank which stretches much more horizontally than vertically. It's good to consider the amount of stretch in the shirt so you don't sew your beads to close together or too far apart. After I finished stitching each small red bead individually I went back and stitched three or four together at a time then doubling back one bead and stitching another group.
You don't have to do that but I thought it made the bead lines straighter and they held together better when the shirt was stretched. It obviously takes more time, though.
I also tied knots after every few beads because I'm a little paranoid that my thread will break – better to use a good strong polyester thread. It'll hold up better than cotton.