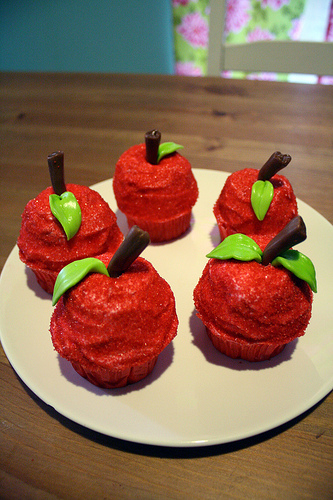 Apple Cupcakes
I seriously have some sort of obsession. All this cupcaking and cupcake related things need to stop. But before I give myself a cupcake intervention here are some nifty apple cupcakes I made!
You can see the recipe and directions here. It's actually from the book What's New, Cupcake? The sequel to Hello, Cupcake, aka best cupcake related book ever.
You need some mini donuts sliced in half for the tops of the "apples," red frosting, red sprinkles and tootsie rolls for the stems and cut up green fruit chews for the leaves.
As a warning, you end up using A LOT of frosting. You need the better part of one of those standard sized cans of frosting for just about half a dozen cupcakes.
I think they turned out pretty nice, and not too many ingredients either for these kind of fancy cupcake designs. I think next I want to try the "tv dinner" cupcakes.