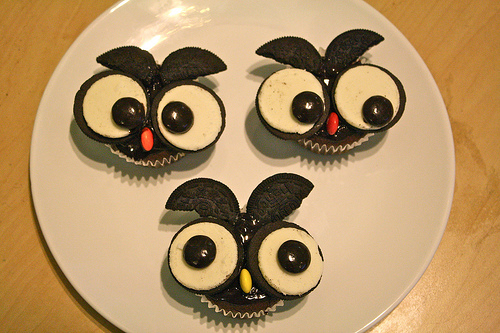 Owl Cakes
Sunday I started a self imposed week long vegan, gluten free diet. Sort of a detox. I've been eating so bad lately I thought doing this only-eating-real-food diet would make me feel better.
Well, that all was ruined yesterday. I had forgotten that last week I agreed to make these cute Owl face cupcakes with Vanessa. Not exactly diet fare. At least we used an all natural cake mix. Does that make it any better? Not sure.
I caved and ate some cup cake scraps. So much for that. I didn't eat a whole finished cupcake (we only finished about half the batch).
Vanessa found the idea from this blog. We gathered supplies, Junior Mints for the eyes, M&Ms for the beak and Oreos for eyes and well, eyebrows (?).
First we tried using Reduced Fat Oreos but neither of us could get a clean twist. We could barely pull them apart at all. I even tried microwaving them for a few seconds and using a paring knife to slice them apart. So at 9:30 at night we had to run to the grocery store to pick up new Oreos. We went with Double Stuff just to be safe and it was like the heavens opened up and angels sang down at us.
While we only used a regular chocolate cake mix, we did make the frosting recipe from the original blog which I loved because it was so easy and not your average frosting.
Chocolate Ganache Frosting from 6 Bittersweets
1/2 cup heavy cream
5 ounces semisweet chocolate, finely chopped
[or use a combination of semisweet and bittersweet] (we used semisweet chips)
1-2 tablespoons corn syrup

Combine the chocolate and cream in a medium, microwave-safe bowl. Try to submerge the chocolate as much as possible, but it's okay to have some above the cream. Microwave the mixture on medium for 1 minute. Stir and heat again in 15-second increments, stirring thoroughly each time, until fully melted. Stir in corn syrup. Let this cool and thicken (in the fridge if needed) before using. If it cools too much, reheat in the microwave at 5-second intervals until it softens to the consistency you want.
We found that the cupcakes were too pointy for the Oreos to stay put so we sliced off the tops of the cupcakes to have a flat surface and that seemed to work well.
The more solid and cooled the frosting is the better the extras will stick – but not so cold that it's solid. You kind of have to stick the eyebrows down into the cupcake itself to make them stay. We used a tiny tab of frosting to help the Junior Mints stick to the white stuff but be careful not to push the mints to hard or they'll smash and break. I also poked a paring knife into the cupcake a bit to help the M&M stay in place.