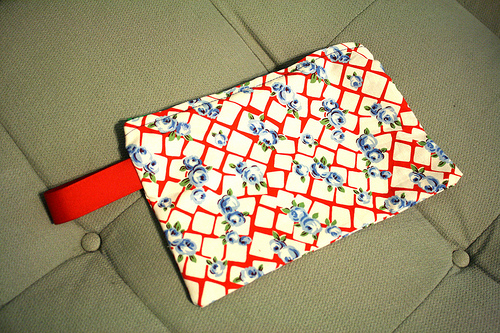 Learn Something New
Wednesday I took a real sewing class. I am almost completely self taught at sewing but when I saw they had a class specifically to learn about the proper way to sew zippers I knew it was something I should do. I think part of the reason why I love stretch fabrics so much is that there is no need for those pesky zippers. How do you do an invisible zipper anyway? Adventures in Dressmaking has a fool proof, easy to follow tutorial for it but sometimes I just need someone to sit in front of me and show me!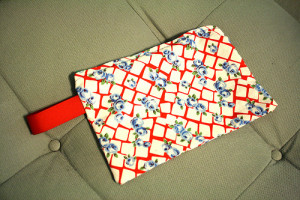 So by the end of it I not only walked out with a couple samples of different zipper methods but I also had this simple little zipped bag (which I might tear apart and line it on the inside and re-do the zipper part). I also ended up with tons of tips that in all my years of sewing I didn't know, even not just about zippers. AND I even ended up spending another $10 on nifty little gadgets that I don't know how I lived without like a magnet to make sure you always have the same seam allowance, a mini ruler for ironing hems and seams and a much better zipper foot (I still need to find an invisible zipper foot for my machine).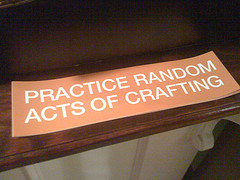 At the store they had this super cute bumper sticker. If I was the kind of person to have bumper stickers on my car this would definitely be one of them.
Now I'm excited to try a truck load of new sewing projects – if only I had the time!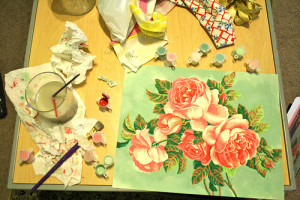 Speaking of projects – Sunday I had the strangest urge to paint. Don't know why, just felt like it. But I don't paint, at least not artistically do I did the next best thing: paint by numbers!
I had never done one before so I envisioned that it would take far less time than it did in reality. I thought it would just be a few hours not several days! Haha, oh well. You can see from the mess that I finally finished it. It was fun but I don't think I'll do it again. Perhaps I'll just collect old paint by numbers paintings instead like a lot of other people do.