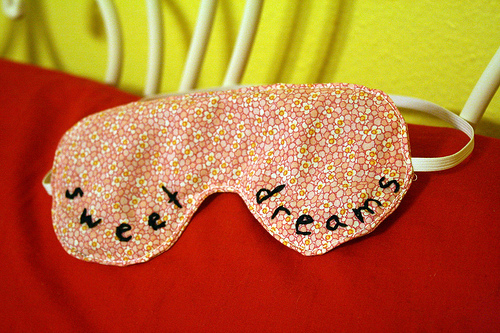 Craft: Sweet Dreams Sleep Mask
My boyfriend likes watching movies or tv show on the laptop before going to bed. This is annoying for me because of the bright light right before bed and also the unnecessary elbow pokes whenever he has to type. I still don't understand his need for entertainment before sleep (why can't you watch tv in the living room and then come to bed?).
So the other night he said "why don't you just make a sleep mask?" and the light went off. Why hadn't I thought of that before? And it is a great way to use up some scrap fabric. Perfect! But, I still resent the fact that I have to have a mask to sleep to begin with… but that's another thing all together.
Supplies: Fabric scraps, thread, elastic, embroidery thread and needle, fleece for the inside

Cost: About $.30 because I already had the other supplies.

Time: 30 min

Difficulty: Easy

Casualties: Tried embroidering one way, disliked it so I made a new front piece with new embroidery.
You can download this simple pattern and print it out on just one sheet of paper. It uses a 1/4 in seam allowance.
You need two fabric pieces for the front and back. I chose the same fabric but you could use different kinds, maybe even a nice satin or velvet for the part that goes against your face. I wanted to use fabric I already had and I don't like trying to sew slippery fabrics anyway.
You also need a piece of fabric like fleece for the inside to give the mask some cushion and in my case I used black fleece for extra light blockage.
I embroidered on the front of my mask but you could paint or sew buttons or draw little eyes or anything.
Pin the two outside sections together right sides facing. Sew along the curved bottom part of the mask. I find that this is the best way to do the curves. HINT: clip the seams of the curves in a few places, when you flip it inside out again this will help the fabric curve easier and not get bunched up as much.
Flip inside out and insert your fleece liner. Now you'll fold in the rest of the edges of your fabric. Iron them flat if that helps.
If you're using the pattern you'll attach the ends of the elastic where those little horizontal lines are on the outside pattern piece. I used about 10in of elastic. You should measure around the back of your head to get a comfortable amount of stretch. You don't want to wake up with a headache! Slip elastic ends between your outer fabric layers.
Now you'll stitch everything closed with a simple top stitch close to the edge.