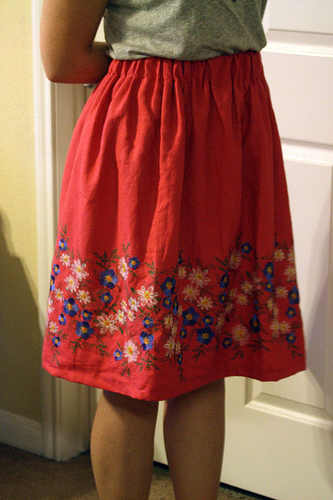 Craft: Super simple elastic waist skirt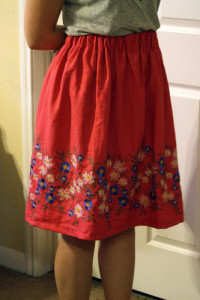 This is a really easy skirt – in theory. I'm sure if I didn't try to sew it when I was completely sleep deprived it would have been easier. I only messed up about 8 times, getting hems and waists sewn on the wrong side of the fabric. Ugh, ridiculous, I know. In my defense the right side and wrong side of the fabric look very similar.
BUT if you follow these directions, I swear you won't have as much trouble as me.
Supplies: Fabric (about two yards or twice the length of your waist measurement), matching thread, elastic (I used 1.5 in wide and about 1/3 the length of my waist measurement)
Cost: About $7.00
Time: An hour or so
Difficulty: Easy
Casualties: Ugh…
I had this cool pink and embroidered 45″ wide fabric that I cut along the fold so I just had one big long rectangle. Then I hemmed the bottom of the fabric where the flowers are.
On the upper part I folded over about 6cm, encased the elastic, and stitched the waist band. I pinned the ends of the elastic to the openings on either end so I wouldn't loose the elastic in the tunnel.
Then just stitch up the back seam and voila! Minimal cutting and sewing and you have a quick new skirt.