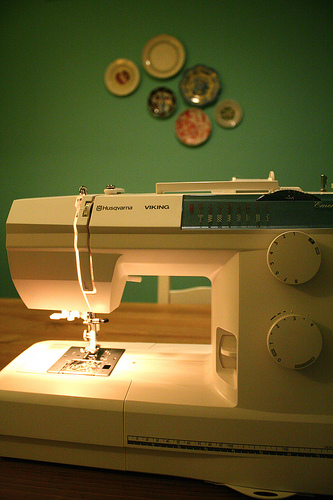 Four Sewing Machines
I now own four, count 'em,
four
sewing machines. Yep, that's right, I bought a new sewing machine and ironically or not it is the same one that my boyfriend's mother and
sister
both have. It's a great little machine and I am appreciating all the little details like the thread cutter and the self threading needle, the quietness and, oh yeah, the not jamming up every twenty minutes part. Here she is, quite a lovely one, isn't she? And she was on major sale!I've already used her (I really need to stop referring to it as a female) to make a muslin for a skirt. I just need to cut out some of the middle part of the pattern and make the back pieces wider and then I can make the real skirt!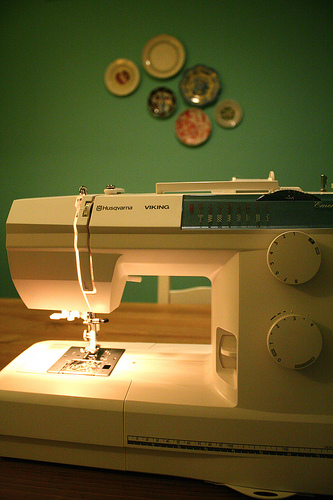 Then there's this. The serger I got two years ago passed down from my cousin who probably got it for her birthday in '93 and only used it once (hence why it looks brand new). I'm still getting the hang of it but at least I'm using it finally and I can even thread it all by my self!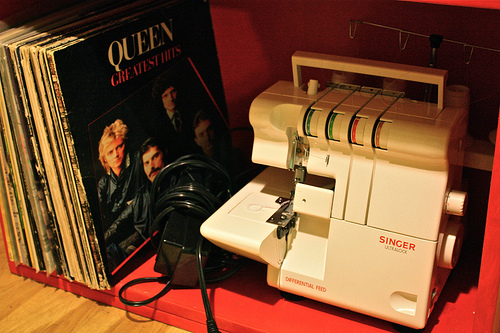 This was my grandmother's (I think) and out of sentimentality and because it is so cool looking I can't get rid of it. I don't have any place to display it either so it just sits in my closet. Did I mention it weighs more than me? Picking it up off the ground should be considered an Olympic event.
I'm pretty sure it's from the 40s. It's electric and yes it still works! Well, the motor runs but the wheels and inside parts need a huge helping of grease to make it really work. I found this out when I tried using it in high school to sew skirts before I bought a new machine, extremely frustrating and a massive fail.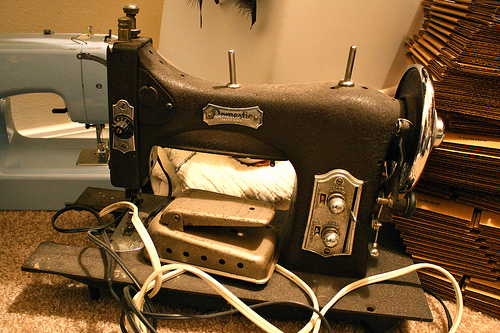 And this is the machine I bought in high school. Good ole' Sears and it's cheap cheap sewing machine. $99 bucks I believe and a grand total of about 5 stitches. No bells or whistles to speak of. I don't need it anymore and I'd like to sell it but, ooops, I might have accidentally thrown out my serger foot pedal plug by mistake and Justin had to shave some plastic off of the plug that went to this little blue baby and make it fit in the serger! Not that I'd get much for this anyway.
Oh well, little machine. You were good to me – except when you jammed up and I screamed obscenities at you, I'm only partially sorry for that.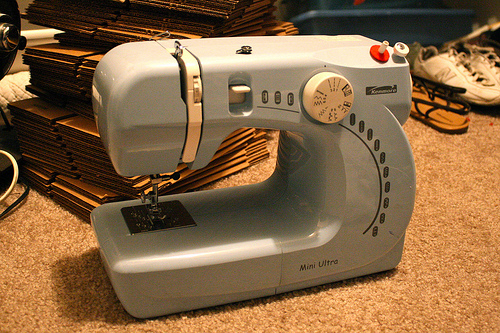 What kind of sewing machine do you have? Do you like it? What was your first machine?