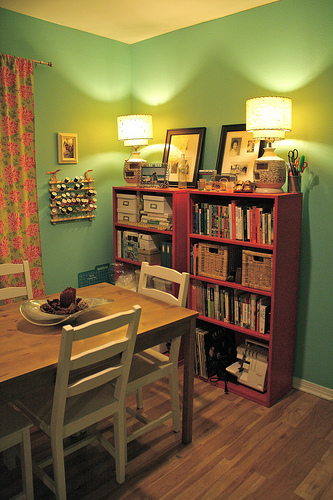 Craft room/dining room?
I decided on a whim the other night to reorganize my craft/sewing supplies and try to arrange them in the bookshelves in my dining room. I usually end up in there or in the living room in front of the tube while crafting and Justin suggested I turn my dining room into a craft room.
I didn't like the idea at first but then I just went for it – ripping out stacks of books, year books, magazines and atlases and trying to squeeze them somewhere in my closet while also trying to fit as much crafty stuff on those shelves as possible.
I still have some books (mostly novels) on there but the CDs, DVDs and most books are in my closet making the wood shelf they sit upon perilously low in the center…
Things of note on the shelves:
Half a yard stick that broke a long time ago and the other half has since disappeared.
Ugly shoe boxes housing all my tiny fragrance bottles for my candles (I keep the candles tucked in an old vintage dresser thing so my whole apartment doesn't smell like a mix of fruit and flowers)
Two sewing machines
Shot glass collection from my travels
Good Eats Cook Book. My favorite cooking show ever!
Giant bag of wax chips for above mentioned candles.
Cute sewing bin holding all my patterns gifted by the lovely Vanessa.
And yes, those are my bronzed baby shoes and they are awesome (if dusty on the inside)
I'd like to get more stuff out of my closet and into the dining room but now I don't like the messy look of the clear containers and old used shoe boxes that most of my things reside in but I still want everything to look neat but visible.
I also want to paint those bookshelves again. After being moved around so much the edges are looking a little dirty and chipped and the first paint job wasn't that great anyway. Any color suggestions or just stick to red?
Here's a few pretty pics mostly from some craft room/sewing room groups on Flickr. Click on images for sources.