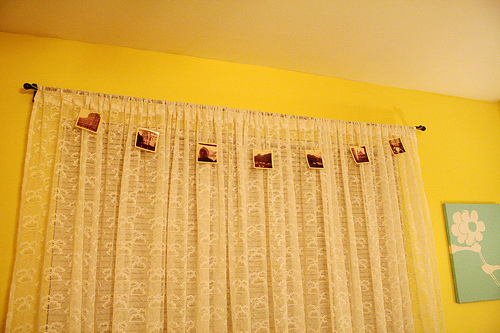 Craft: Hanging photo garland
I'm constantly trying to find ways to use those extra left over craft supplies. You know, when all you need is a handful but they only sell bags of 50? What's up with that? So after I found my handy ball of twine while cleaning my shelves (I love the word twine. Don't know why. It's just fun to say – twwwiiinnneee) I grabbed some of my mini clothes pins and some cool old photos my mom took when she was in Europe in the 70s (everything seemed a lot cooler back then, right?) and strung them up over my bedroom window and voila!
I've always liked simple craft ideas best. Nice and clean and symmetrical and un-fussy. Uncluttered, just the way I like it and lord knows I need things to be as uncluttered as possible!

Supplies: twine, scissors, mini clothes pins, photos, window with curtain rod or wall with thumb tacks

Cost: free! because I already had everything

Time: 10 min or less

Difficulty: Super Easy

Casualties: none, hurray!
Tie a loop around one end of your twine (or yarn or string, etc) and string it up around one end of the curtain rod. Stretch the twine across to the other side of the rod and tie another loop.
If your twine is stretchy like mine, make the length of yours hang higher than you might want it in the end because with the weight of the photos will stretch the twine down.
Hang photos on the twine with mini clothes pins. I personally love the way old photos look with their faded colors and cool edges.
Ugh, back to work tomorrow. That means no more sewing and crafting and sleeping in. Boo!