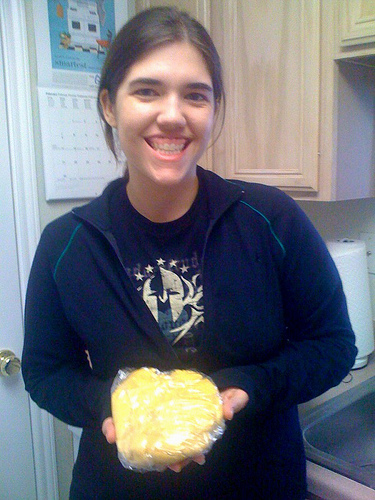 Cheesy crackers
My friend Vanessa loves Tastespotting and only until lately have I realized why. Sooooo many wonderful recipes collected from all over blog land in pretty pretty picture format just makes my mouth water!
Saturday I hopped over to her place to work on her new business logo designs and to make some super delicious cheddar cheese crackers. Yes, they are pretty much cheese-its, and yes, it may not be completely worth it to spend all the time making them when you could just buy that orange box at the store but it was still fun and the end result was delicious!
Sorry, Vanessa for stealing your thunder but I can't just let these terrible iphone photos go to waste!
The recipe is from Home Cooking in Montana via Tastespotting.
Cheddar Crackers
1 cup all-purpose flour
3/4 tsp. salt
1/2 tsp. ground pepper (optional)
4 TBSP cold unsalted butter, cut into small pieces
8 ounces grated cheddar cheese
3-4 TBSP water

Directions:Pulse the flour, salt and pepper, then add butter and pulse until the mixture resembles coarse meal. Add grated cheese a little at a time until the mixture again resembles coarse meal. (Vanessa had a small food processor so we did the whole thing in batches)

Pulse in 3 to 4 tablespoons of water, one tablespoon at a time, until the dough forms into a ball. It will probably take a minute or so.

(Vanessa proudly holding the dough blob)

Remove, wrap in plastic, and chill for 20 minutes or up to 24 hours. (Uh, we didn't have a lot of time so we did about 30 mins) This way the butter has time to solidify and I think makes for puffier crackers.

Roll the dough out to 1/8th-inch thickness directly onto a baking sheet. You don't want to roll them paper thin, neither do you want to roll them too thick. If they are too thin, they will not puff up as much. If they are too thick, they will not be as crispy.

(Most of ours ended up puffing up. Softer on the inside and crispy on the outside. I think I liked them better than normal crackers.)

(We used a pizza cutter to slice the dough. We tried squares and triangles. We didn't fork the edges of all of them. Vanessa wanted at least some to look pretty. We also poked holes in the middle for some reason I don't remember)

Bake at 350° F for 15-20 minutes or until crackers are golden brown. Watch them after the 10 minute mark.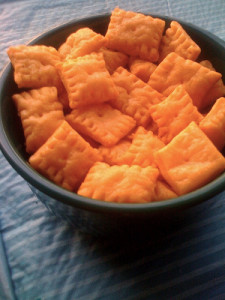 These were so good! And if you have a big enough food processor (or you split the recipe) they are very simple to make. The perfect snack and way better than the store bought kind.
Anyone see any Tastespotting ideas they want to try? Maybe some Indian? I don't know why I'm craving Indian food so much lately…