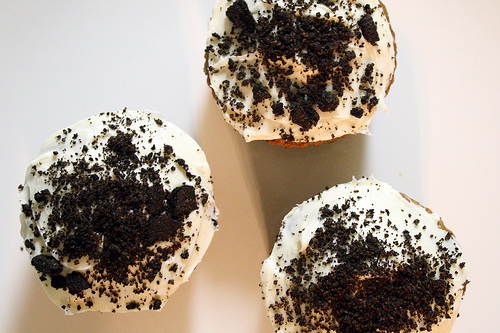 Oreo Cupcakes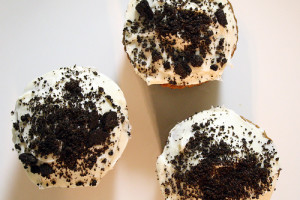 My roommate in LA made these cupcakes and after making these other cupcakes I remembered how wonderful these cupcakes were. I found the recipe by searching through some blogs.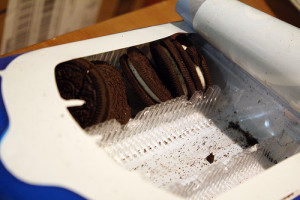 From How to Eat a Cupcake
COOKIES AND CREAM CUPCAKES
MAKES 22 TO 24

30 Oreo cookies
1 package (18.25 ounces) plain white cake mix
1 cup sour cream
1/2 cup vegetable oil
3 large eggs
1 teaspoon pure vanilla extract

1. Place a rack in the center of the oven and preheat the oven to 350°F. Line 24 cupcake cups with paper liners. Set the pans aside.
2. Count out 12 Oreos and separate the top and bottom wafers. Make sure each has some of the icing on it. Place one wafer, icing side up, in the bottom of each paper liner. Set them aside. Place the remaining 18 Oreos between sheets of waxed paper or in a large, closed zipper-lock bag and crush them by rolling over them with a rolling pin. Set these crumbs aside.
3. Place the cake mix, sour cream, oil, eggs, and vanilla in a large mixing bowl. Blend with an electric mixer on low speed for 30 seconds. Stop the machine and scrape down the sides of the bowl with a rubber spatula. Increase the mixer speed to medium and beat 1 1/2 minutes more, scraping down the sides again if needed. Measure out 1 1/2 cups of the crushed Oreos and fold these into the batter until well incorporated. Set aside the remaining crushed Oreos for the frosting. Spoon or scoop 1/3 cup batter into each lined cup­cake cup, filling it three quarters of the way full. (You will get between 22 and 24 cupcakes; remove the empty liners, if any.) Place the pans in the oven.
4. Bake the cupcakes until they are lightly golden and spring back when lightly pressed with your finger, 18 to 20 minutes. Remove the pans from the oven and place them on wire racks to cool for 5 minutes. Run a dinner knife around the edges of the cupcake liners, lift the cup­cakes up from the bottoms of the cups using the end of the knife, and pick them out of the cups carefully with your finger­tips. Place them on a wire rack to cool for 15 minutes before frosting.

Store these cupcakes, in a cake saver or under a glass dome, at room temperature for up to 3 days or in the refrigerator for up to 1 week. If you plan to freeze them, don't add the cookie-crumb topping. Wrap them I in aluminum foil or in a cake saver and freeze for up to 6 months. Thaw the cup­cakes overnight in the refrigerator and top with cookie crumbs before serving.
Oreos at the bottom, my favorite part!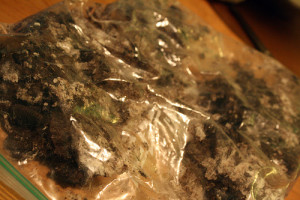 Crushed up oreos in the bag.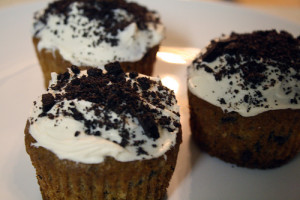 I could have made my own icing but I was lazy and just used some store bought kind.