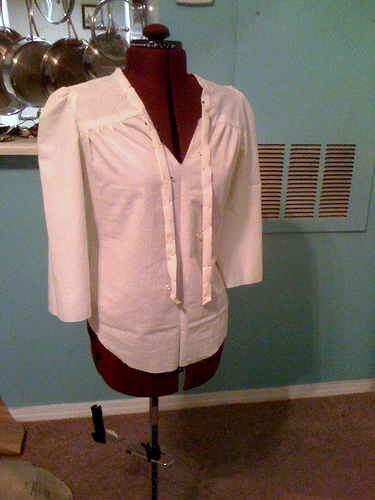 Making a shirt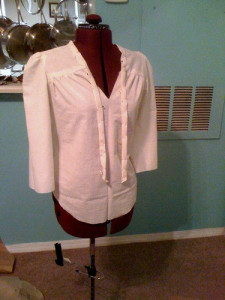 Trying my hand at making my own clothes from scratch – well, not completely from scratch. I did start out with some mix matched pattern pieces and altered them. This is, however, my first try at making a muslin first. I admit it. I'm a lazy sewer. I hate hemming and finishing sleeves. I couldn't be bothered to line anything and I hate working with elastic. Once I'm about halfway through the sewing process I'm over it and want it to be finished already.
(messy messy floor)
Because of that things don't always get finished as well as I would like to I'm doing it the right way this time and making a muslin. Once I'm completely finished and know everything's good to go I'm going to take it all apart, make the final pattern from those pieces and make the real shirt. And then I'm going to start all over again and make another (different) shirt. Actually, I have a list of clothes to make but one step at a time, right?
For this shirt I still have to cut, iron and sew part of the v-neck, atatch the collar, sew the bottom hem, and sew the elastic sleeve ends.
I'm still looking for the right fabric for the end result and hopefully by then I'll know how to work my serger and make the shirt look completely professional!
Also by the time I'm finished with the muslin I'm hoping I'll have a new sewing machine. This one maybe?
Anyone out there know of a good machine in the $200-400 range?