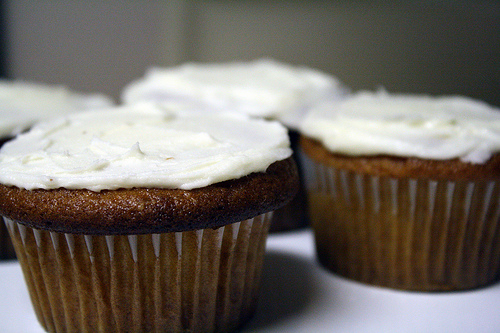 Cupcakes!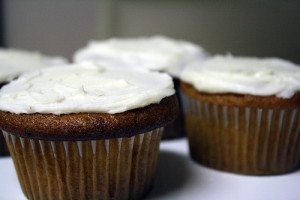 Cupcakes? Sprite? Yes please! I saw this recipe on From Scratch and immediately went "ooooooooh!" She tweaked the recipe from here and I used that original recipe 'cause I wanted to see if the pudding really made a difference and I used that icing recipe, too.
I don't think I've ever made my own icing before. It took awhile to stand there with the mixer trying to get the butter and the powdered sugar to blend.
I did encounter a few problems. First, I really wanted fun fetti cake mix but when I arrived in the baking isle the cake mixes were blocked by two pallets filled with hundreds of bags of flour and sugar or whatever. Doesn't matter. I just couldn't find/reach the fun fetti mix so I grudgingly grabbed the plain borning white mix.
Second, I think something is wrong with my over. It is far too hot. Maybe the temp knob doesn't work? I nearly burned the cupcakes (they are a little browned) and they finished in about 15min instead of 30.
Then for the frosting I didn't have enough vanilla extract left so I decided to use lemon extract. I should have remembered to use less than the recipe said because I think lemon extract is stronger than vanilla. I also had some leftover key lime powdered sugar from a cookie mix. It's still white it just tastes lime-y. I only had a few ounces of it left but combined with the extract the icing turned out very tart. Not bad, just surprisingly tart.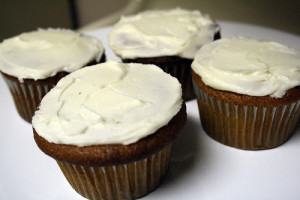 But together the cupcakes were great. Nice and moist and soft. Yummy!
Simple Sprite Cake
1 white cake mix
4 eggs
3/4 cup vegetable oil
1 box instant vanilla pudding (3 oz. size)
8 oz. can of Sprite (the mini one)

Preheat oven to 350 degrees.
Grease and flour two 9 inch cake pans.
Mix ingredients on low until combined and then increase speed to medium and mix for about 2 minutes.
Pour batter into pans and bake for about 30 minutes or until a toothpick inserted comes out clean.

Buttercream Frosting
1 cup (2 sticks) butter, softened
1 teaspoon pure vanilla extract
1 1b. 10X powdered sugar
1-3 teaspoons milk, half and half or cream

Using a mixer, cream softened butter and vanilla with until smooth.
Add sugar gradually, allowing butter and sugar to cream together before adding more.
If you want it a little creamier, add a teaspoon of milk at a time and beat on high until you get the right texture.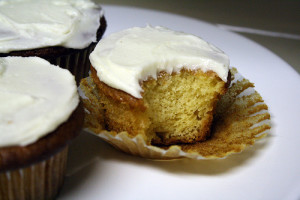 I made some awesome oreo cupcakes but I haven't tried them yet. Maybe tomorrow!