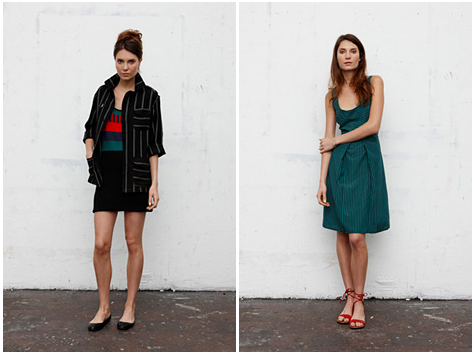 Built By Wendy
I bought two books yesterday off Amazon after I saw how cheap they were. I've been wanting one of (or all of) Wendy Mullin's Sew U books for awhile.
I own nearly all of her
patterns
and craving more I found her clothing line and fell in love all over again. If I could define my style with one designer it would be this. Her spring line is coming out in a few weeks and I'm very excited! Not that I plan on buying anything. Way too expensive. But hopefully with this new season the
fall season clothes
will be on major mark down and I hope I can snatch some goodies.
When I lived in LA I discovered her little store in Hollywood and got all giddy trying on clothes (yes, not all of them looked good on me but whatever). I bought two shirts, both on sale. But still, one of them is the most I've ever paid for a shirt. Eek! Did I mention she also makes
cool guitar straps
?
Let's all take a nice look at the pretty pretty dresses and outfits from the Built by Wendy spring collection… even if I can't afford this stuff I can at least make it myself! Cute cute cute.
So now I will be (im)patiently waiting by the mail box for my goodies.
In the mean time. I'm thinking of taking a serger class in town to learn how to properly work my serger I got for Christmas two Christmases ago.