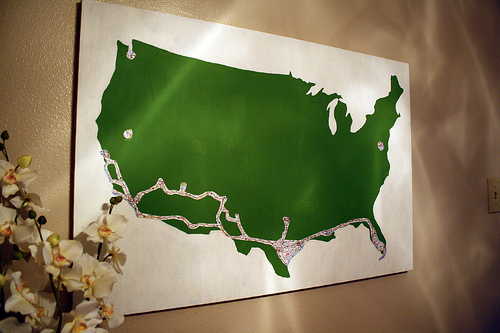 Craft: Map Art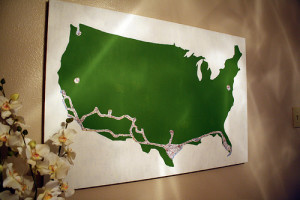 I have to admit that I totally hijacked this idea from one I saw in an art gallery (only his had many more roads). I tried looking up the artist but I think the exhibit is no longer there. But I did put my own little twist on it.
The idea is to have a map that only includes the roads you've traveled and cities you've visited, and me, the travel nerd, loved that idea.
The fun part about this is that you can add on places you've traveled to later. You save the rest of the map and cut out pieces you need after your trip.
I like the idea of seeing exactly where you've been, not just states or countries or whatever you choose to do.
Supplies: 1-2 maps ( used one to outline the USA and another to cut out roads and cities. Since many cities and roads I've visited have been on or close to the water I wanted to still include some water that surrounded those areas in my map), achrilic paint (I used green and white), paint brushes, scissors, glue

Cost: $5 for a map (I had another old map as well that I used to outline), $0.99 paint, already had brushes

Time: A couple hours

Difficulty: Easy

Casualties: My old painting was painted over, oh well.
First I cut out an old US map that I had laying around. Then I traced around it onto the canvas (in this case and old canvas).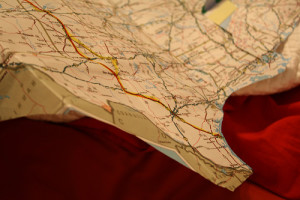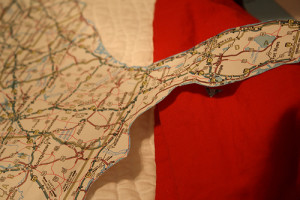 Then I proceeded to paint, pretty easy, however I had to use several coats to cover up the painting underneath.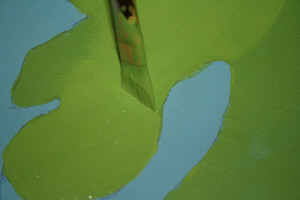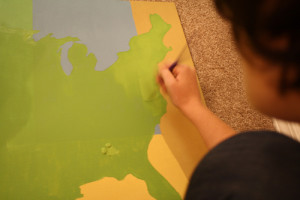 Then I used the other map to carefully cut out roads and cities. I cut several pieces because it was easier to handle, although it was a pain to try to align everything correctly (some of my USA edges weren't exactly perfectly on the line). After all the pieces are arranged I carefully glued them down.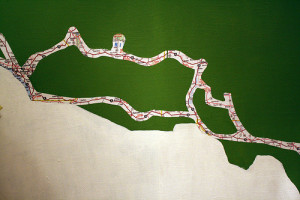 And voila! Now, my map is pretty bottom heavy but that just makes me more excited about seeing other parts of the US! Justin and I are driving/flying (not sure which one yet, I'm hoping for driving) up to Michigan for a wedding this summer and my birthday is in April so perhaps we will add a few more roads to this map.
I saved the remainder of my map in a plastic bag and hid it behind my dresser (I tried taping it to the back of the canvas but it fell off).