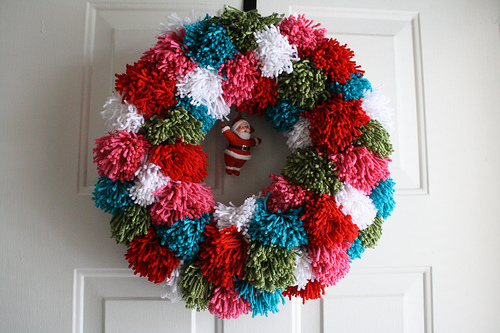 Craft: Christmas Pom Pom Wreath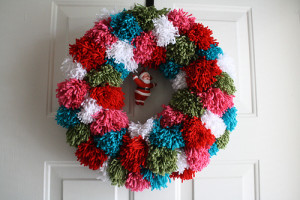 I saw this cute idea on another blog and had to make it!
Supplies: 5 skeins of yarn (I think the stiffer the yarn the puffier the pom poms, so cheaper might be better
Cost: $3 for the wreath, between $2-$4 each for yarn, probably more than I would have liked to pay but the color selection wasn't that great, $3 for the vintage Santa.
Time: Several hours to make and tie all those pom poms!
Difficulty: Easy
Casualties: Yarn fuzz all over my couch, loss of circulation in my fingers.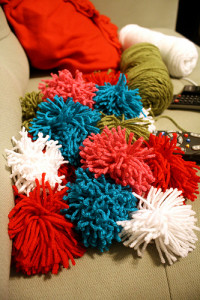 First I made several pom poms by wrapping yarn around my fingers, tying the blob together and snipping the ends. I ended up using about 50.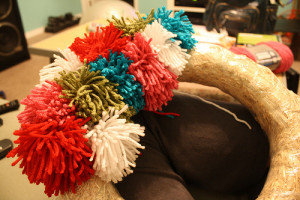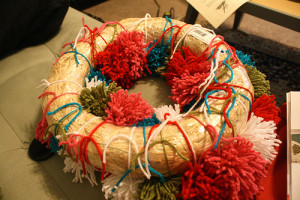 Then I tied them around my wreath. The wreath I bought had a plastic wrapping around it so I just left that on. Later I trimmed the hanging strings on the back.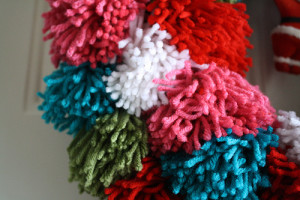 I admit I probably could have used more pom poms on the sides. If you stand to the side of the wreath you can still see the straw wreath base but you can't tell from the front. I got lazy and tired of making pom poms.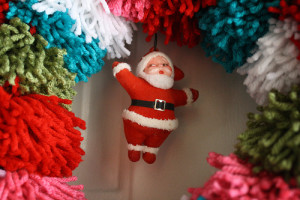 I added this cute little Santa that I bought from a local vintage store and now it's hanging over my door for Christmas time! I'm thinking of making more pom poms to go on gifts or maybe even ornaments.