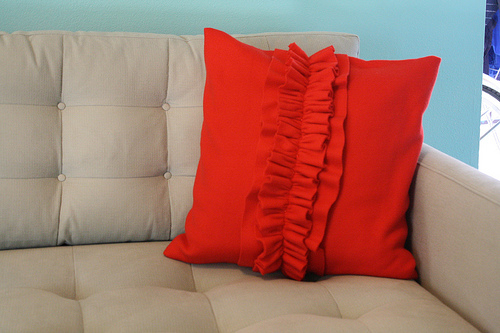 Craft: Ruffled Pillow Case
I got a new couch, yes, it is amazing, but more on that some other time. So the couch needs some cute new throw pillows, right? So this is the first pillow of hopefully many more.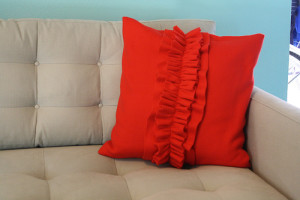 Supplies: About a yard of fabric (I used fleece), pillow (I used an 18x18in), thread, sewing machine, beads (optional)
Cost: $6 for my fleece, already had red thread, $16 for the pillow (more than I'd like to spend but using stuffing is never as good as the pre-made pillows and I want to be able to change the pillow cover)
Time: About 2 hours.
Difficulty: Moderate
Casualties: Feeling stupid for cutting fabric to the wrong size.
I made an envelope style pillow case rather than using a zipper. I cut a piece of fabric 19.5 in by 45 in(I used a 5/8 seam allowance) so I only have seams on two sides.
With the rest of the fabric I cut a strip that was 6 in x 24 in for the lower ruffle and I should have cut a piece that was 4 in x 36 in for the upper ruffle but I must have been distracted because I cut it 4 x 18 instead. Ugh, so then I just cut another 4 x 18 and as you'll see later I managed to make it work.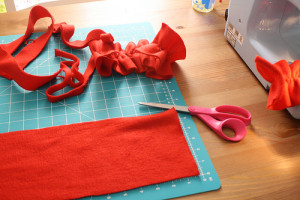 To make the ruffles, sew down the middle of the strips with a long and loose stitch. Pull on of the strings on the end to make it ruffle. You want the end result to be 18 in long. The lower ruffle won't be as thick as the upper one.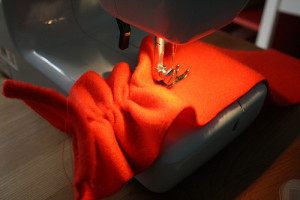 Pin the upper ruffle on top of the lower on and place the center seams right in the middle of the big fabric piece you cut earlier then sew the three pieces together down the center seam. This is the front part of the pillow.
Next sew the edges of the envelope part of the pillow case. On both of the short ends of the big fabric fold over the edge until you have a nice clean hem and sew.
Using the ruffles as the center of the pillow with the ruffles facing up. Measure 9 in on either side of the ruffles for the front of the pillow. Fold the rest of the fabric over, they will overlap. Pin the sides and sew up the sides.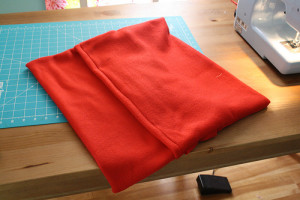 Now you can turn it inside out and fit your pre-made pillow inside the case.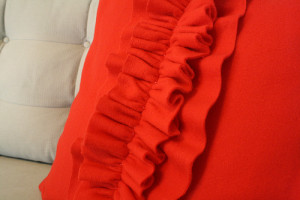 I still had a few beads left over from the garland project I did. I stitched the tiny beads in the middle of the garland. They are barely noticeable from far away but up close they add a nice extra detail.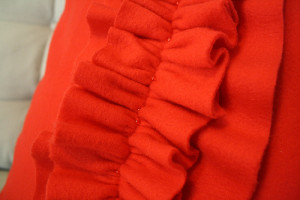 I bought two other types of fabric for even more hot pillow case action!