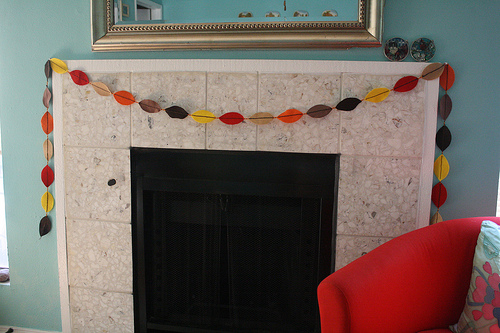 Craft: Autumn Leaves Garland
Even though it's the middle of September all the craft stores have their fall and Halloween decorations up which makes me so exited for the holidays!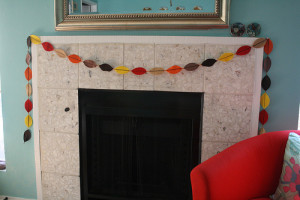 I saw this garland idea on some other site and instantly thought of fall leaves. It's been deathly hot all summer and these past couple of days have been amazing! Yesterday it rained ALL day, and the day before and it's clearing up a little today but the sky is still layered with clouds. The best part, though, is that we have all the windows in the apartment open and we don't need A/C. It feels SO GOOD. I can't wait for fall. At least it looks a little like fall in my place.
Supplies: Multiple sheets of felt in various fall colors, seed beads, scissors, brown embroidery thread, needle.
Cost: About $1 for the felt, $5 for three little tubes of beads, about 30 cents for thread.
Time: A few hours.
Difficulty: Easy
Casualties: Lost beads in the crevasses of the couch.
Cut a template for the leaves out of paper. I made one that was about thee inches long and two inches wide. Use your template to cut out leaves from the felt sheets. I managed to get 15 leaves out of a sheet if I planned it right.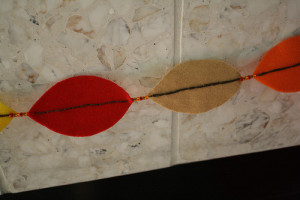 Pick a pattern of your colors then stitch down the center of the leaf with your embroidery thread. In between each leaf string on 6 or so beads. I found that if you tie a small knot at the end of the leaf before you add the beads and then add another small knot when you begin the next one it keeps the thread from stretching. You want there to be beads in between your leaves, not a few beads and a long thread.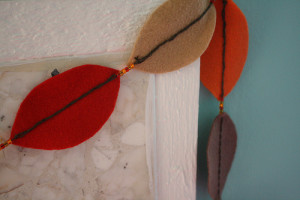 I had so many leaves that I made two more. This one's on my headboard.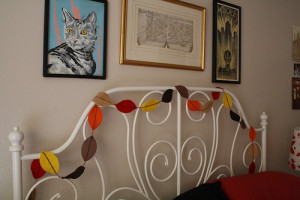 As a slightly related note, a couple days ago my foster cat decided that he might eat some felt scraps and well, lets just say he immediately regretted it.