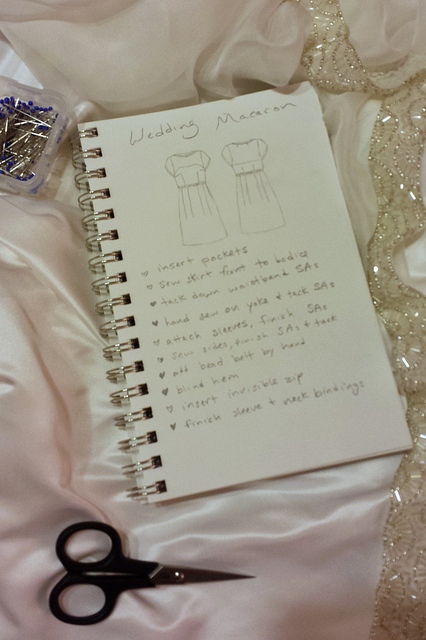 I usually don't post in progress posts. It's hard for me to get excited about a garment when I don't know what it looks like on a person, ya know? But this is a special dress so I'm making an exception, plus I'd probably like some documentation of what I did purely for personal reasons. 😉
So, um, yeah… I'm getting married. Woohoo! But I admit I'm not much excited about the whole wedding extravaganza – except the dress. I could make tons of wedding dresses. I could just swim in lace and silk and trims and beading all day long but the dress I'm making is pretty simple. I want something short and cute that's not strapless.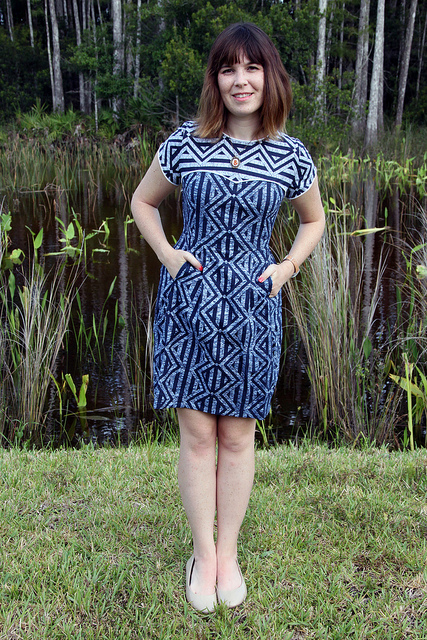 I'm making a Colette Macaron! I already made this one recently that served as a test version. I'm pretty lucky, the size 4 fits with no changes needed so I can move right along into making the final dress.
My main shell fabric is a silk/rayon blend satin (which was so much less expensive than buying real silk duchess satin). I wouldn't say it's stiff but it's really stable and will hold pleats well.
The underlining is a plain silk organza which is working out great 'cause I can tack all my seam allowances and blind hemming to the organza and leave the shell fabric hole-free.
The yoke is a soft organza (the upper fabric in the top picture). It's semi sheer and only a little firmer than chiffon but not much. It's kind of a pain to work with, especially with the seams.
I'm using the shell fabric to create bias binding for the neckline and sleeves.
I still haven't decided if I want to line the dress. If I do I'll buy some white silk habotai. I don't have to insert a lining for awhile so I have time to mostly assemble the dress and decide what I want to do. If I don't I'll just wear/make a slip/half slip of some sort. Oh, who am I kidding, I'm probably just going to make a lining…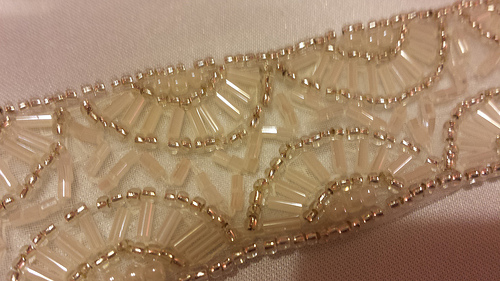 Finally for the waistband I'm hand attaching this beaded trim which is nearly the exact width of the waistband.
I bought the organzas and trim from the Common Thread and the satin from Fabricker.
I'm using silk thread to sew everything mostly because if I ever want to dye this dress to wear again later polyester thread won't dye and since I'm already using silks or silk blends I figure silk thread would dye closest to the fabric color.
So far I've cut the yokes and stitched them at the shoulders and attached one side of the neck binding. I'm going to hand stitch the binding down in back by hand. I've done the same to the sleeves but I've yet to sew the sleeves to the yoke. I'm using a kind of mock flat fell seam for the sheer yoke and sleeves. It's stronger than a French seam (which would have been really hard to sew) and it's still pretty narrow and not very noticeable.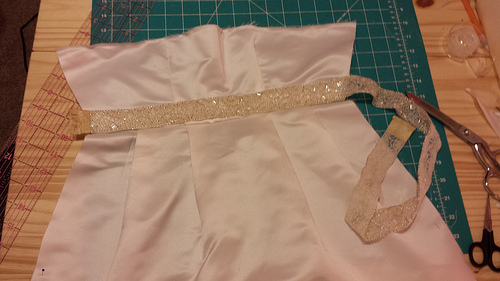 I've sewn the darts in the bodice front and back and sewing the back bodice, waistband and skirt together. I finished the seam allowances with a zig zag stitch and plan to slip stitch/cat stitch the allowances to the organza in the waistband just to make it nice and clean.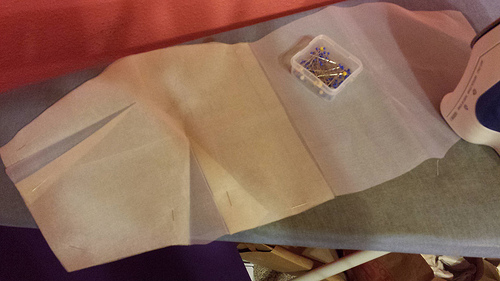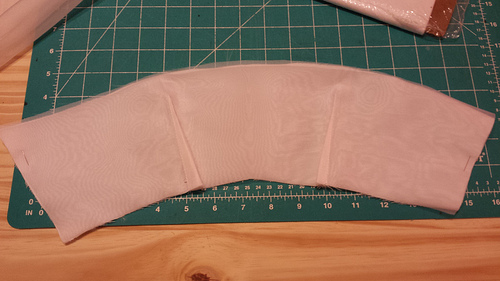 What's nice about the organza was that I could iron on the dart legs without needed markers or chalk to mark them, then just fold the organza in place over the wrong side of the satin and sew darts like normal.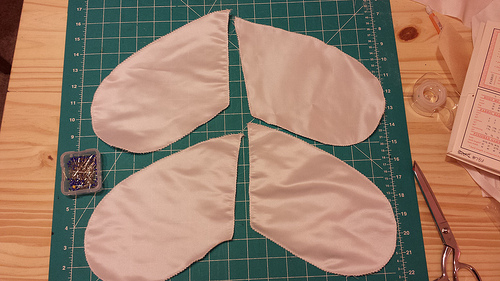 I finished each pocket piece with a zig zag (that satin frays so bad!) and once I insert those I'll sew the whole front shell together.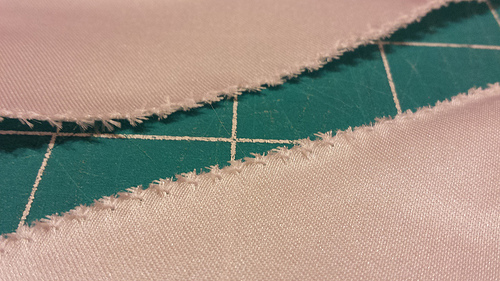 After I sew one side of the main dress together I'll hand sew the beaded trim on.
I'll stitch the yoke to the shell by hand and reinforce it if needed. The normal pattern instructions call for top stitching the shell to the yoke but I'm trying to avoid any unnecessary visible stitches. The waist band is tight enough that it serves as a waist stay so I'm not too worried about the weight of the dress on the yoke.
From there I'll make and attach a lining if I want one and blind hem and insert and invisible zip.
Lots of hand sewing to come!