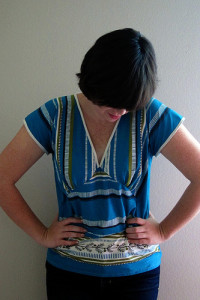 Good news! I finally reinstalled Adobe Illustrator so I could start making patterns again. Long story but I had to delete it in an attempt to get another program to work, ugh!
So now I can present to you the quick and easy pattern for my Two Piece Tunic! It is called that because the whole thing is only two pieces which makes it a fairly easy pattern to draw and then sew.
You can view the original post about that top if you want.
Cutting and sewing time on this shirt is easily less than 2 hrs.
All the measurements in the pattern are in inches and centimeters and the sizes are based on finished garment measurements so you can decide how loose or fitted you want the shirt. I like to know finished garment sizes because for mass produced patterns the finished size is always so much bigger than your own body measurements. It can be annoying when you wind up with a huge shirt after hours of sewing!
Another note – for my shirt I used a border print striped fabric and with the front piece I went against the grain line. So on the back and shoulder the stripes are vertical and in the front they are horizontal. Obviously my cutting pattern and the amount of fabric I used was far different from the cutting pattern shown in the PDF. If you want to make your shirt similar to mine, adjust accordingly.
Download the pattern and instructions in one PDF. When you print make sure you do not scale the pages. There is a test square to measure just in case. Line up all the pages matching letter or number notches. Included is a little diagram on one of the pages as a guide.
I have another pattern I need to make. Now if only I can find the paper pieces I made that are stashed in a Ziplock somewhere….